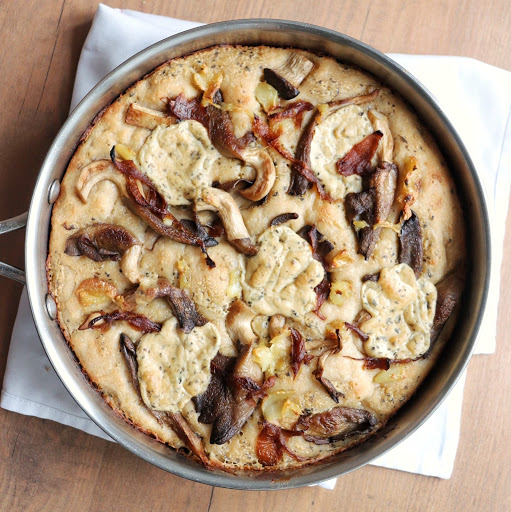 NONA'S MUSHROOM ALFREDO PIZZA
Total time: 1 hour
Ingredients
Pizza dough*
Sauteed mushrooms
Roasted garlic
Caramelized onions
Olive oil
Any other toppings of choice**
Method
Preheat the oven to 450F. Oil a cast iron skillet or baking sheet. 
Add the dough to the pan, stretching slighting so it fills the edges
Top with a light layer of NONA ALFREDO SAUCE
Add mushrooms, garlic, onions, and any other toppings of choice. 
Spoon dollops of NONA ALFREDO onto the pizza
Sprinkle on olive oil
Bake the pizza in the oven for 15-20 minutes, until the crust is golden brown.
Remove from the oven and place pizza onto a cooling rack. 
Garnish with fresh rosemary. Serve with a side of warm NONA CHEESY-STYLE SAUCE or NONA CARBONARA-STYLE SAUCE for dipping. 
Buon Appetito! Enjoy your meal!
Tips and Tricks
* Level up by making your own epic dough using this recipe //www.kingarthurbaking.com/recipes/crispy-cheesy-pan-pizza-recipe. 
**Have fun with the toppings! Pineapple, vegan pepperoni – it's all delicious with our creamy and herby Alfredo.