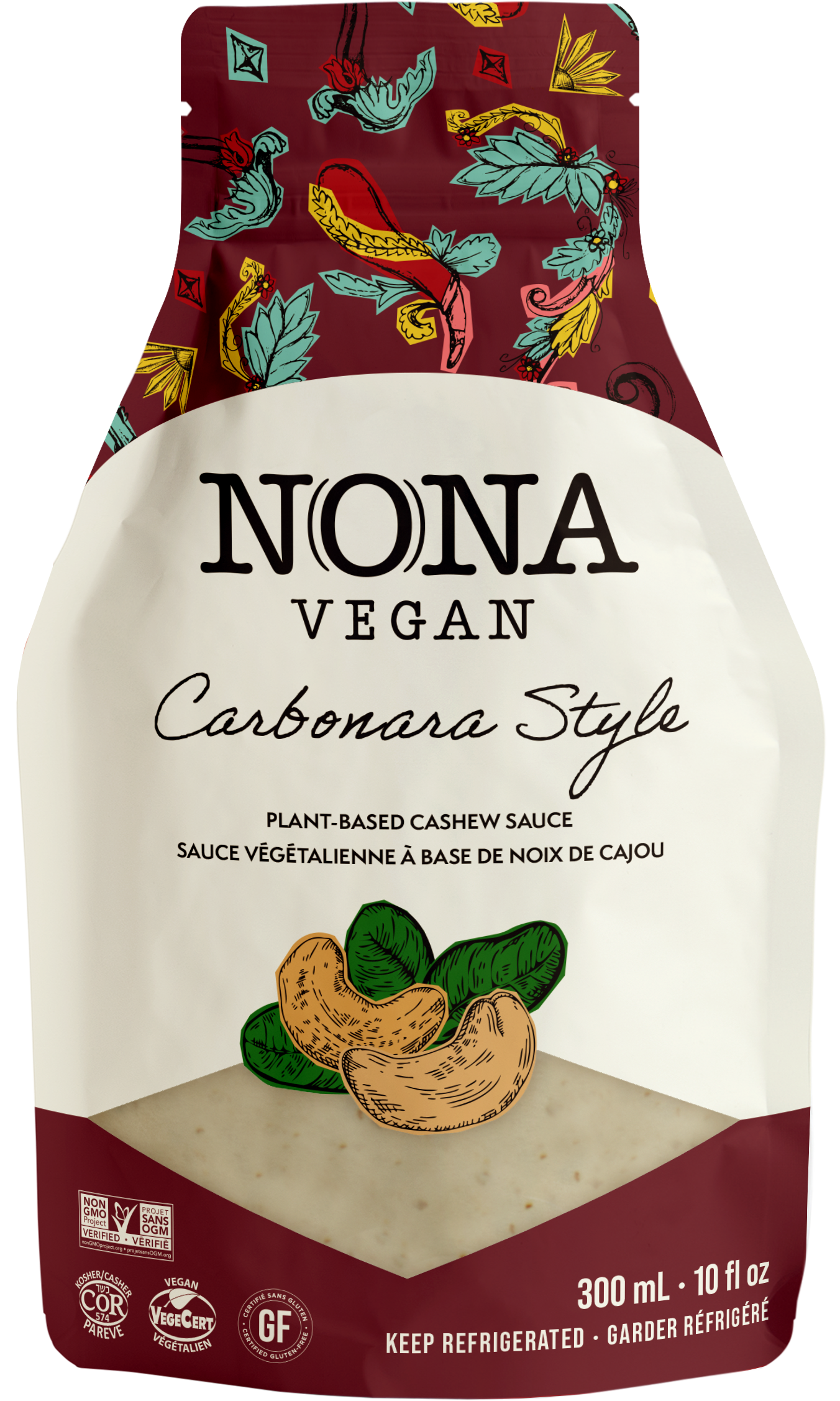 Foodie Fact: Carbonara comes from the Italian word carbonaro (charcoal burner). Seems the charcoal workers back in the day had some hearty appetites and the dish was born. We took the challenge and made a velvety, smoky sauce that loves every noodle. Our decadent cashew cream with savoury plant-based bacon, pairs well with spaghetti, roasted veggies, sandwiches and salads.
water, cashews, vegan bacon-flavoured oil [coconut oil, soy protein, sea salt, maple syrup, black pepper, onion, garlic, torula yeast, natural hickory smoke flavour, magic], garlic powder, nutritional yeast, black pepper, arrowroot powder, sea salt, ascorbic acid (Vitamin C), xanthan gum, liquid smoke.
CONTAINS NUTS and SOY. Produced in a facility that also uses corn, soy and other nuts.
Always refrigerate.
"Hi! I just made penne pasta with your carbonara sauce and I had to come on here to say THANK YOU! It was absolutely unbelievable! I'm a newbie vegan and I've been missing my creamy pasta sauces, in particular carbonara, and I can't believe how amazing it was. Creamy. Smoky. A nice little kick of pepper. I'm gonna say that this was even better than any dairy based cream sauce I've had in the past. After I used to finish a bowl of fettuccine Alfredo I always used to feel gross and bloated, but not tonight! Thank you for making such a beautiful product. I will be going back to the store where I bought this from and stocking up! Wonderful job!"