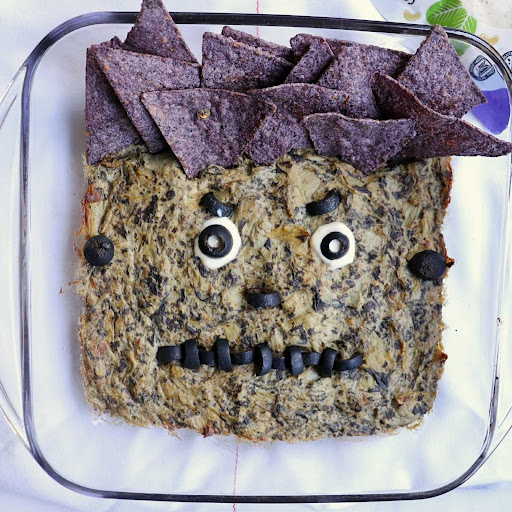 NONA'S FRANKENSTEIN SPINACH DIP
Total time: 35 minutes
Ingredients
1 pouch NONA Alfredo-Style sauce
1 block frozen spinach (or 3 handfuls fresh spinach)*
1 can artichoke hearts
Pinch of salt
Lemon juice 
Sliced black olives
Two dollops of NONA Alfredo, or something white and creamy!
Blue corn chips
Method
Preheat the oven to 400F.
Defrost the spinach, then mix with artichoke, NONA Alfredo-Style Sauce, salt and lemon juice. 
Bake in the oven for 20-30 minutes, until the edges start to brown. 
Remove from the oven.
Place sliced olives on the spinach dip in the shape of a mouth, nose, ears, and eyebrows.
Place a small dollop of NONA sauce as the eyes, and top it with two more slices of black olives. 
Add the corn chips to the top of the dish as the 'hair'. 
Buon Appetito! Enjoy your meal.
Tips and Tricks

* Add extra spinach to make the Frankenstein face even more green
** You can make this ahead of time! Simply cook the artichoke dip, then let it cool and keep it in the fridge. Reheat and decorate before serving.