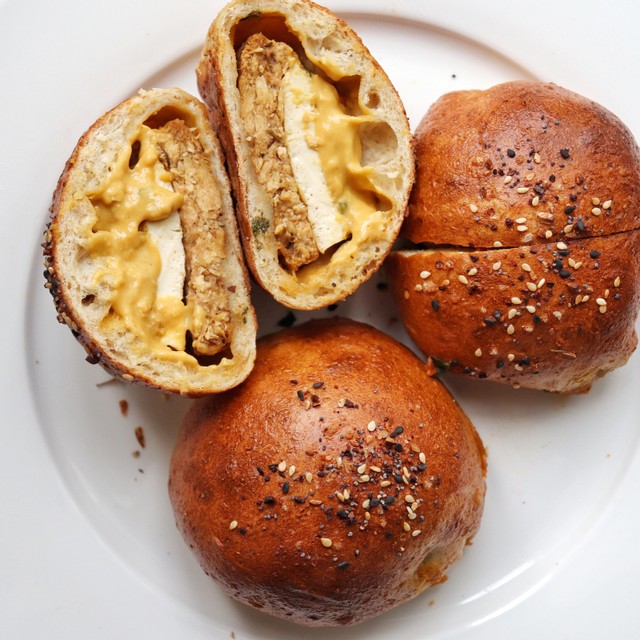 NONA'S CHEESY BREAKFAST BAGEL BOMBS
Total time: 2 hours and 35 minutes.
Ingrédients
Filling:
1 cup NONA Style-Fromagée
1.5 tbsp tapioca starch
¼ cup chopped scallions (more or less to your taste)
Tofu or Vegan Egg of choice
Vegan Sausage patty of choice
Bagel Dough:
3 ½ cups (412g) bread flour
1/2 cup (70g) whole wheat flour (optional, can sub for more bread flour)
3 tbsp brown sugar
1 ¼ tsp salt
1 ½ tsp instant yeast
1 ⅓ to 1 ½ cups (301g-340g) lukewarm water
2 tbsp baking soda (for boiling)
2 tbsp brown sugar (for boiling)
Préparation
1. Mix NONA Style-Fromagée with tapioca starch and chopped scallions. 
2. Freeze in ice cube trays, about 2 tbsp per portion, for at least 1 hour.*
3. Combine bread flour, brown sugar, salt, yeast, and the lesser amount of water. Knead by hand or in a stand mixer. Add water as needed – you want a soft, smooth dough. Let it rest for 60-90 minutes, until proofed and puffy. **
4. While dough is rising, cook your vegan egg and sausage. You want them to cool down a bit before you fill the dough, or it will melt the NONA sauce. (This can also be done ahead of time and kept in the fridge.)
5. Once dough is proofed, portion it out into approximately 12 pieces, and shape into balls. Let them rest for 10 minutes. During this time, you can heat up a large pot with water and preheat the oven to 425F.
6. Flatten each dough ball slightly and fill with one portion frozen NONA, egg, and sausage (in that order).
7. Bring up the sides of the dough to enclose the bagel bomb. If there are any openings, the ball will explode during boiling.
8. Add the baking soda and brown sugar to the water. Bring to a boil.
9. Place the bombs in the boiling water for 30 seconds, flip with a slotted spoon, and boil for another 30 seconds before removing.***
10. Sprinkle everything bagel spice on the bombs, and bake in the oven for 20-25 minutes, until golden brown.**** Your bagel bombs may leak a bit of filling, but that's okay! Use some bread or crackers to scoop it up, and enjoy the extra Cheesy bonus.
11. Let the bagel bombs rest at least 5 minutes before devouring. They're best the day they're made, but can be kept in the freezer and reheated before eating.
Tips and tricks
*If you don't have a tray, be creative and use whatever you have available. During one round of testing, we even had to freeze the NONA in a small cup lined with parchment. A bit more fussy, but it works.
**We tried a few different dough recipes, including using more whole wheat. We can say this recipe is definitely the easiest, stretchiest, and best, but use whatever makes you happy. You may wind up with extra dough, but then you get to make it into bagels!
***If it does explode, no worries. It'll still taste delicious. Bake it open side up and call it a Bagel Volcano?
****We like to preheat a pan in the oven for the bagels. After boiling, we place the bagels on parchment paper and slide that onto the hot pan. This helps to avoid any soggy bagel bottoms.
This recipe is heavily inspired by the Bagel Bombs from Christina Tosi et King Arthur Baking.