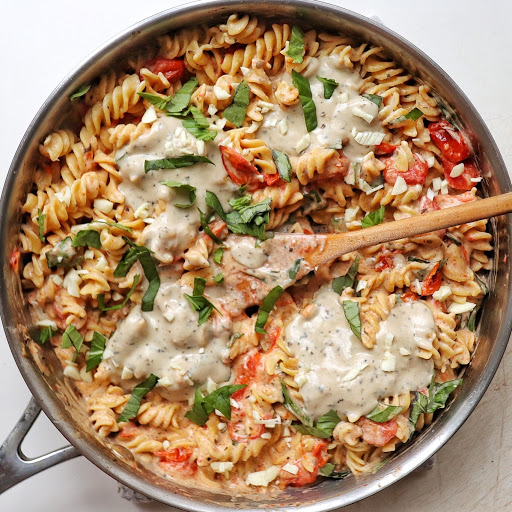 ROASTED TOMATO ALFREDO PASTA
It started on tiktok, but everyone loved it so much, we had to post it! Make it for a hands-off dinner that pleases even picky eaters.
Total time: 40 minutes
Ingredients
One pint cherry tomatoes
2 tbsp olive oil
One pouch NONA ALFREDO-STYLE SAUCE
¼ cup white wine (optional)
¼ cup fresh basil
4 oz pasta of choice 
2 cloves finely chopped garlic
Freshly ground black pepper to taste
Method
Preheat oven to 350F.
In a baking dish, add the tomatoes, olive oil,
NONA ALFREDO-STYLE SAUCE, and white wine. 
Bake in the oven for 25 minutes, until tomatoes have burst. 
While it's baking, cook pasta to its instructions.
Remove the baking dish from the oven and add the pasta, fresh garlic, basil, and pepper to taste. 
Enjoy! Buon Appetito!