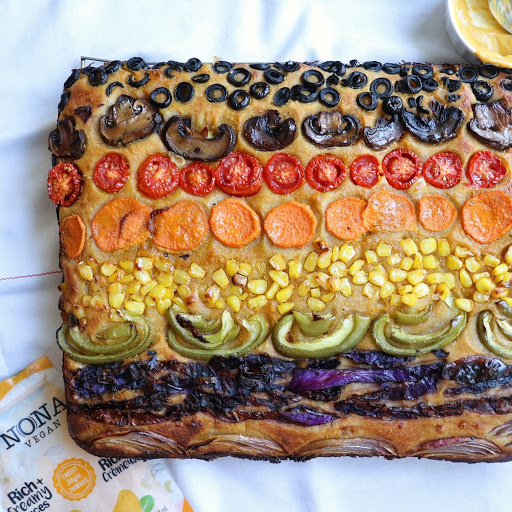 NONA Vegan is proud to be LGBTQ+ and this rainbow focaccia is a tasty way to celebrate! Happy Pride!
NONA'S PRIDE FOCCACIA
Total time: 50 minutes.
Ingredients
Black olives (black)
Sauteed Mushrooms (brown)
Tomatoes (red)
Sweet Potato (orange)
Corn (yellow)
Green pepper (green)
Purple Cabbage (blue-ish)
Purple Onion (purple)
Method
1. Place your foccacia dough in a well oiled pan
2. Brush NONA CHEESY-STYLE SAUCE onto the dough 
3. Add your toppings in rows, in the same order as the pride flag (black-brown-red-orange-yellow-green-blue-purple)
4. Bake your foccacia according to the doughs instructions, until golden brown and baked through. Our dough took 25 minutes at 425F
5. Let the bread cool for at least 10 minutes before removing from the pan and devouring
6. Buon Appetito! Enjoy your meal! 
Tips and Tricks
*Use storebought pizza dough and make it into easy pizza!
Or use your favourite gluten free/sourdough/keto bread recipe.