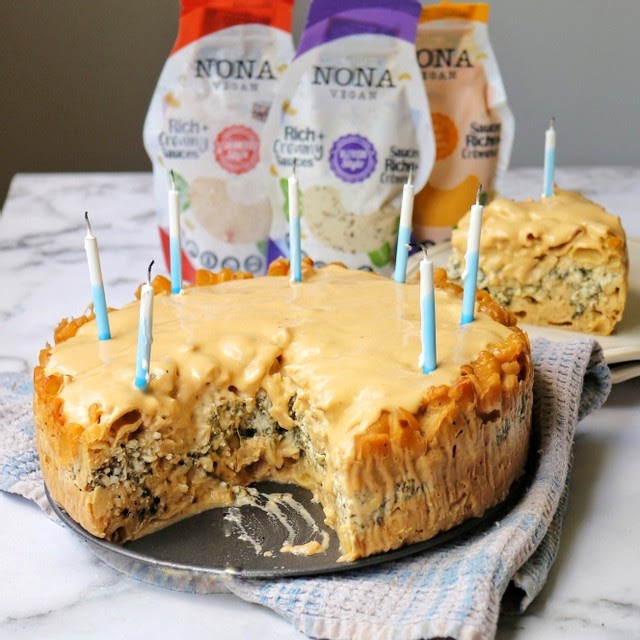 Happy 8th birthday to us!!! To celebrate, we made a birthday cake – out of pasta. It's the NONA Cheesy-cake of our dreams — and hopefully yours too!
NONA'S PASTA CAKE
Total time: 1 hour and 15 minutes.
Ingrédients
Préparation:
Cook pasta according to its instructions, until just al-dente*. Set aside and let cool slightly. 
Preheat oven to 350F. Grease a 9-inch springform cake pan and line the edges with parchment paper**
Mix together the spinach, tofu, and NONA sauce Style-Alfredo
In a bowl, add 1 ½ pouches NONA Style-Fromagée, 1 pouch NONA Style-Carbonara, and the tapioca starch. Mix together until combined, then add the cooked pasta. Mix gently until combined. 
Place half of the pasta mixture into the cake pan. 
Layer the tofu mixture onto the pasta, leaving 1 inch of space on all sides.
Top with the rest of the pasta mixture.
Bake for approximately 40 minutes, until the edges set and start to pull away from the pan. If it's browning too quickly, cover the top with a sheet pan or tin foil.
Let the pasta cake cool for at least 10 minutes.***
Before serving, cover the top of the pasta cake with the leftover ½ pouch of NONA Style-Fromagée, warmed up. And if it's someone's birthday, add candles! 
Buon Appetito! Dégustez! 
Trucs et astuces:
As always, have fun with the toppings! Add extra vegetables to the pasta, or top with vegan meatballs.
* You want the pasta to have some bite to it still, as it will finish cooking in the oven. We like adding oil to the cooking water so the pasta doesn't stick together as much while it cools.
**Optional, but it will give you cleaner edges, and ensure the pasta keeps its shape.
***The cake holds its shape better the longer it has to set, so make it a day ahead of time if you can! Let the cake cool at room temperature, then cover the top and keep it in the fridge until you need it. Rewarm the cake in the oven at 350F until warm throughout (use a skewer to check that the middle is warm). Then proceed to step 10.