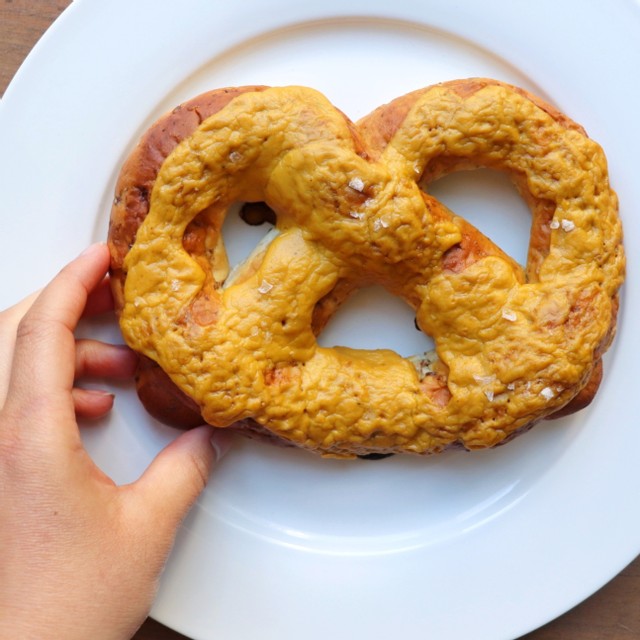 The Cheesy snack of our dreams! You can make the advanced version (listed below), or scroll to the bottom for the 2 minute super easy variation.
NONA'S CHEESY PRETZEL
Total time: 1 hour (or 2 minutes with pre-baked pretzels!).
Ingrédients
Pretzel Dough:
2 tsp instant yeast
2 tbsp maple syrup
1 cup warm water
2 1/2 cups all purpose flour*
1 tbsp olive oil
Water Bath:
8 cups of water
1/4 cup baking soda
The Most Important Topping: NONA Style-Fromagée.
Préparation:
In the order listed, place all the dough ingredients into the bowl of a stand mixer.
Knead on low speed until soft and smooth, about 6 minutes. You can knead by hand – it will take about 10-15 minutes.
Cover the dough and let rest in the bowl until double in size, about 1 hour.
Cut the dough into equal pieces (we made 8), and twist into a pretzel shape.**
Preheat the oven to 400F and prepare a baking pan.
the water and baking soda in a pot. Bring to a boil.
Boil each pretzel for 20 seconds on each side.
Using a slotted spoon, remove the pretzels and place on prepared baking pan.
Bake for 8 minutes until they are no longer doughy.
Remove the baking pan. Quickly cover each pretzel in 1-2 tbsps of NONA Style-Fromagée.
Bake for another 5-7 minutes until the pretzels are golden brown.
Remove from the oven and let cool for 2 minutes before devouring.
Buon Appetito! Dégustez!
The Super Easy Method!:
Top your pre-baked/store-bought pretzel with 1-2 tbsp of our NONA Style-Fromagée (and jalapeno's if you're feeling spicy)⁠.
Broil for about 2 minutes, removing when the sauce has set slightly (watch it so it doesn't burn!).
Remove from the oven and let cool for 2 minutes before devouring.
Buon Appetito! Dégustez!
Tips and tricks:
*We haven't tried this with gluten free flour, but let us know if you do!

** Here's a great tutorial on how to form a pretzel.

*** As always, have fun with the toppings! Adding pickled jalapenos, vegan pepperoni, caramelized onions, or roasted garlic would all be very tasty.